Home Alarm Installation & 24 Hour Monitoring
Half-Price Monthly Monitoring with NO CONTRACT! Discount Home Alarm offers alarm security monitoring for around half the rate of our competitors! Get alarm monitoring with remote access for only $29.99 per month with NO annual contract. Also get full home automation control for only $9.99 per month.
Discount Home Alarm is currently offering hundreds of dollars worth of 2GIG home alarm and automation equipment for free! Control security, lighting, temperature, doors, windows, applliances, and other Z-Wave device in your home all from your your Go!Control panel, smartphone, or internet!
About Discount Home Alarm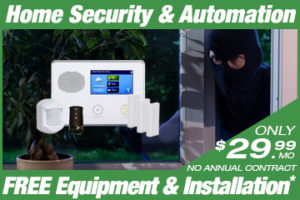 Discount Home Alarm is a Nationwide company specializing in the installation, setup and 24 hour monitoring of home alarm security systems. We also offer the setup of smart home automation systems that enable you to monitor your home security through your cell hone or other mobile device. We can also turn your home into a smart home with the setup of an automation system that enables you o to control you home thermostat, lights, and more remotely from anywhere in the world with your mobile device.
Why Choose Discount Home Alarm


WE ARE PROFESSIONAL
We partner with the best independent home security technicians in your area and pride ourselves on providing fast and professional service. Our mobile home security technicians have the experience, knowledge and tools to do the job right.



SATISFACTION GUARANTEE
We are committed to providing exceptional alarm and monitoring services at clear and affordable process. We offer a satisfaction guarantee. If you're not satisfied, we're available 24 hours a day to resolve issues.
Alarm Monitoring with Remote Access
Home or Office with Smart Phone App
$29.99
per month with NO contract
More than 1,000,000 customers*
NO annual contract
NO phone line needed
24/7 Emergency Response
Tamper-resistant technology
Real-time alerts, even when the system is disarmed
Remote control via mobile app
Full Home Automation
Video | Thermostat | Lighting | Garage door
$9.99 
per month with NO contract
Window and door sensors
Image and motion sensor
Thermostat control
Lighting control
Smoke detectors
Garage door control
Water and flooding sensors